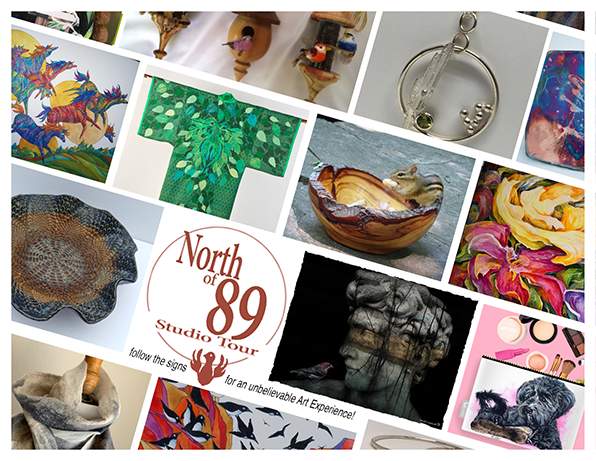 One of our own has passed away all too quickly.
Darlene became a full time artist in 2012 and not only did she practice her art but she contributed to the artist community by volunteering her time to the various local art groups and was also a part of the Artist in the Schools Program, influencing young potential artists.
Her contributions are far too many to list them all. Darlene's work, like herself, was full of joy and colour.
She will be missed by all of the North of 89 Studio Artists.
A Celebration of Darlene's Life
will be held at
the Shelburne Golf & Country Club; 516423 County Road 124, Melancthon, ON
on Thursday, September 29, 2022 from 1-4 p.m.
Below in their respective Studio, you can view an Artist's Page by clicking on their name
Jackie Warmelink
Potter

Stoneware
&
Raku
Rosemary Hasner

Mixed Media
Photography
Lawrence
Kristan
Wood Turner
Kai-Liis McInnes
Painting
&
Alpaca Products
Pat Burns-Wendland
Handweaver
and
Dyer
Wendy Morris
Handcrafted
Jewellery
Patrice Clarkson
Pet Portraits
Animal Art
&
Products
Carole
Watson

 
Painting
Textile Designer
Contact
Please contact Artists individually if you have any questions about their art.
Visit Us
We are working hard to show you all our Artist's talents in this coming spring season and on into summer then hopefully, the 2022 North of 89 Artist Tour!
Something you would like to say…